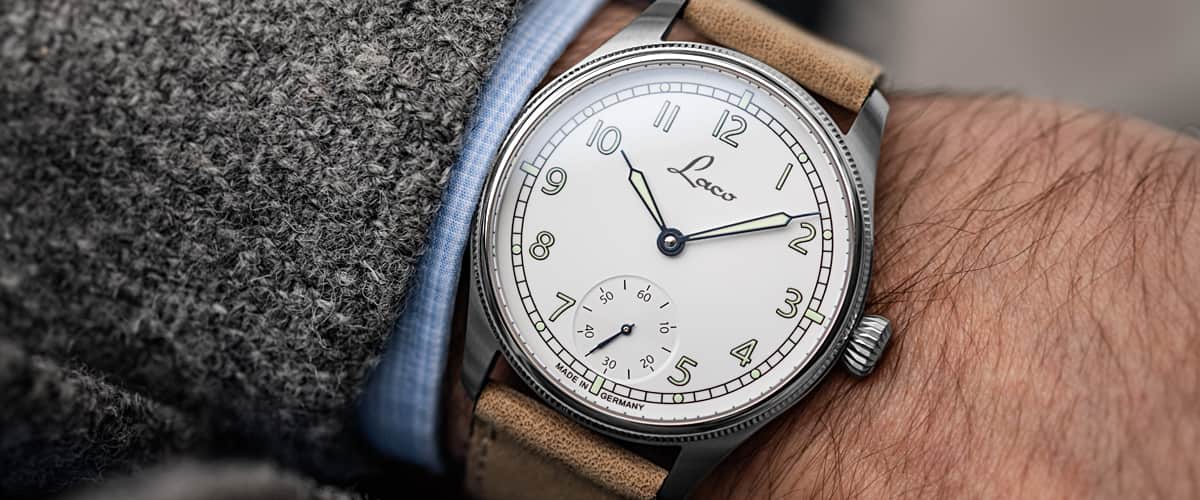 I decided to add this Cuxhaven Handwinding watch from Laco to our growing watch collections.
It's simple and clean looking, with an old-fashioned wind up mechanism that is nostalgic as all get out.
I'll be damned if I knew why I was so drawn to it, but something about it made me look at it more than a few times. It's so plain and simple and I don't fancy myself that kind of guy. I decided it was worth a trip to see my dad and get his opinion on it, and I'm glad I did.
My dad has street cred when it comes to watches.
He has a decades old Master Watchmaker diploma hanging on his wall, but his real expertise was earned through the countless hours he spent "at the bench." (That's trade talk for sitting at a watchmakers bench with all the tools, skills and desire needed to make a broken watch tick again.)
He even had a side gig fixing busted watches for the "higher up's" during the Korean War. Like I said, he has street cred. (I don't know another person on the planet who fixed watches during a war. That's old-school cool in my book.)
I handed the watch to him and asked, "What do you think about this? It's a hand winder. Why would someone care?"
He lit up. He saw what I didn't see but was about to learn. School was in session.
"Oh my gosh this is a beautiful watch! This is as simple as a watch movement can get. Just look at how it works!" (The back of the watch is transparent so you can see the inner workings. It's pretty cool.)
Then he gave me a quick lesson about how watches work, what the "17 Jewels" are for, and how the cogs and wheels weren't just "stamped out" with little regard to calibration. What he was saying is, "this is a nice watch."
He stared at the balance wheel as it rocked back and forth, gave the crown a couple of turns to wind it, and then watched it tick.
"This is a great watch, because it's so simple. It's made to tell time. Period."
He and I agreed that taking a few seconds each morning to pause, and wind the watch, and set the time, was probably a good thing. It reminded us of simpler days, and I suppose that's ultimately why I think it's so cool.
And then I understood why I was drawn it.
This watch is a time piece, nothing more, nothing less. It is unique, and stands out from the millions and millions of robotic "watches" that litter our wrists and add more sameness to our lives. Plain and simple is different. (Ironic, no?)
So here it is. The Cuxhaven 42,5 MM Handwinding Navy Watch by Laco.
It indicates the time. Simply. The same way my dad explained what makes a watch like this tick.